small batch handcrafted products
COMING SOON SPRING SCHEDULE
We are in the process of moving studios!
We will keep posted on our progress with such on our social media and website platforms.
WORKSHOPS COMING SOON!
Starting @ $35 a person
Includes a 9 Oz Recycled Glass container with lid, a choice of a custom blend of essential oils, organic dried herbs & crystals!
Option to bring your own container. Other options will be available for a small upcharge.
Message us on Facebook & Instagram to reserve a spot -Or- give us a call at (910) 782-8381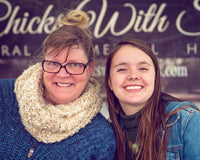 LOCAL SHOPS WITH OUR PRODUCTS
SHOP: Madame Meerkat's Cabinet of Curiosities
LOCATION: 1001 S Kerr Avenue, Wilmington, NC
Find a selection of our Organic Crystal Soy Candles & Body Products.
SHOP: The Bryand Gallery
LOCATION: 122 S Front St, Wilmington, NC
A handful of our Crystal Soy Candles are available.
SHOP: Going Local Gallery
LOCATION: Mayfaire Shopping Center
Shop Products
LOCAL SHOWS & POP-UP MARKETS
Follow our FACEBOOK & INSTAGRAM accounts for more information on all events we will be vending at in and around Wilmington, NC!
- HISTORIC DOWNTOWN ARTISAN MARKET
EVERY SUNDAY FROM 10-3:30PM THROUGH NOVEMBER!
LOCATION: WHERE WATER ST MEETS MARKET ST
- WRIGHTSVILLE BEACH FARMERS MARKET
CLOSED FOR THE SEASON
LOCATION: WB LOOP
Find out more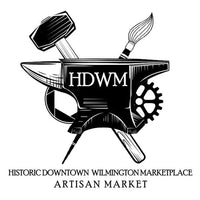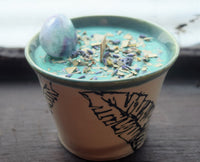 Madame Meerkat's Cabinet of Curiosities
A unique metaphysical store with a coffee and tea bar. Representing over 35 local makers. There is a community room which provides a space for workshops, classes, and lectures. Readers are available everyday as well as an impressive selection of crystals. Find some of our products here and so much more!
Address: 1001 S Kerr Ave, Wilmington, NC 28403
Now Available
2 CHICKS WITH SCENTS STUDIO
19 S 16th St
Wilmington, NC
910-782-8381
Message us on Facebook or Instagram for more information or to make an Appointment
Reviews
Crystal Soy Candle

I love that these are all-natural and in upcycled containers. And that it came with one of my favorite gemstones. Really amazing product! Thank you :)

Fleur D'Elise
2 of the most beautiful souls I have met in a while. Very like minded people. I bought a candle and some bug spray. So happy it is in an aluminum bottle as I am taking a trip soon and was worried about transporting glass on a plane. Much thanks. Blessed be ladies.

Crystal Lanier Mathews
I bought a vanilla and lavender candle. This was my first wood wick candle, and I'm hooked! The scent fills my whole house! I can't wait to get my next candle! And try their other products!

Kelly Ann Merritt
Obsessed with the Remedy antibiotic healing salve we got last week. LOVE IT!

Katie Singleton-Sweet
Bought my first candle in a lil teacup at the Folk Festival in Fayetteville NC and I am absolutely in LOVE! Smells wonderful and so relaxing! Can't wait to get a refill!

Kimberly Zebraski
Add customer reviews and testimonials to showcase your store's happy customers.

Author's name